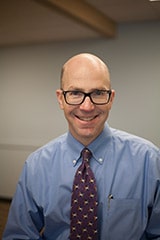 Dr. Barlow is a native of the Northwest. His basic premise in practicing medicine is listening to the patient. "It is very rewarding to treat all ages, and multiple members of the same family. I really enjoy the wide variety of my practice and the ability to provide continuity of care."
Dr. Barlow was raised on a farm in southern Idaho. He is married with two daughters. In his free time, Dr. Barlow enjoys spending time with his family, snow skiing, golf and following college football.
Education
Undergraduate (1985), B.A.
Whitman College, Walla Walla, WA
Medical School (1990), M.D.
University of Washington School of Medicine, Seattle, WA
Residency (1991 – 1996)
General Surgery (2 years)
Otolaryngology/Head and Neck Surgery (4 years)
University of Washington School of Medicine, Seattle, WA
Board Certified: American Board of Otolaryngology, 1997
Fellow: American College of Surgeons, 1999
Clinical Associate Professor, 2002 to present
Dept. of Otolaryngology/Head and Neck Surgery
University of Washington School of Medicine, Seattle, WA
Professional Society Memberships
American Academy of Otolaryngology/Head and Neck Surgery–Fellow, 4/28/1997
American Academy of Otolaryngic Allergy–Associate Fellow
American College of Surgeons–Fellow, 10/14/1999
American Academy of Sleep Medicine–Member
American Medical Association–Member
Oregon Medical Association–Member 9/2003
Oregon Academy of Otolaryngology/Head and Neck Surgery–Member 11/2004
Dr. Barlow operates on pediatric and adult patients at:
Legacy Emanuel Hospital / Randall Children's Hospital
Adventist Medical Center
Providence Milwaukee Hospital