Deviated Septum: Overview
Enlarged Turbinates: Overview
Nasal Septum
The nasal septum is in the middle of the nasal cavity and is made of cartilage and bone
The majority of people have a deviated septum (or "crooked septum") but most people do not have symptoms
If the deviated septum is severe enough, persistent symptoms can develop
Symptoms
The most common symptoms of a deviated septum are difficulty breathing through the nose
Difficulty breathing usually occurs on the most narrowed side, but can occur on the more open side or both sides
Frequent nosebleeds
Noisy nasal breathing
Snoring
Sometimes unilateral facial pain
Severity often fluctuates depending on other conditions such as allergies, sinus disease, enlarged turbinates, and other factors
Causes of Deviated Septum:
Septal deviation can be due to nasal trauma
Sometimes a deviated septum it is present at birth
Sometimes a deviated septum develops during the adolescent growth spurt
Diagnosis of a deviated septum is made by history and physical examination. Sometimes, an endoscope is used to more closely examine the nasal cavity. This can be done in our office. We have a video monitor, so you can see for yourself.
Treatment of Deviated Septum:
Medical management is tried first
Decreasing mucosal inflammation and swelling related to allergy or environmental irritants is often helpful
Surgery to straighten the deviated cartilage and bone (septoplasty) is very helpful in selected patients
Septoplasty is an outpatient procedure performed under general anesthesia
If needed, enlarged inferior turbinates can be reduced at the same time
Septoplasty can also be combined with endoscopic sinus surgery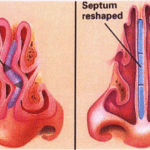 Dr. Barlow operates on pediatric and adult patients at:
Randall Children's Hospital and Legacy Emanuel Medical Center
Adventist Medical Center
Providence Milwaukie Hospital
If you have deviated septum problems, please call (503) 257-3204 or request a visit online with us.
References:
American Academy of Otolaryngology, Head and Neck Surgery. One Prince St., Alexandria, VA 22314-3357, 1-703-836-4444